Craig
This is Craig....He is renovating an old petrolstation. I made a stop, because this red car reminds me of the car I got my driving licence. Craig has been working for 35 years in the film industry in Santa Fe. Enough from the city and and all the tourists he decided to buy this piece of land in the middle of nowhere.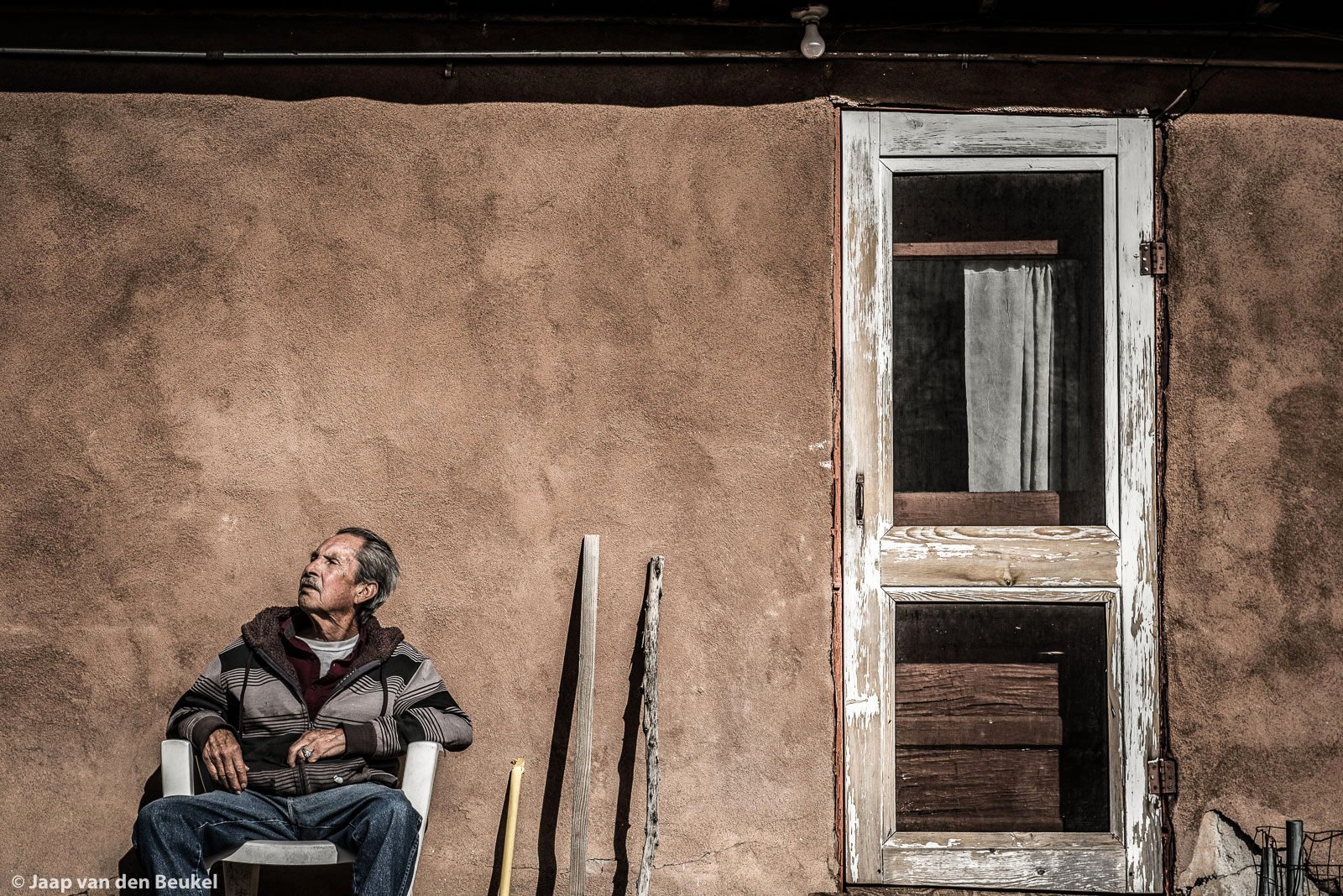 Florentino
This is Florentino. His friends call him Tony. He 's retired and loves to sit in front of his house in a little village in New Mexico. The hot temperature is not bothering this sympathetic man at all. He can sit there for hours and enjoying the sun. For years he lived here with his mum. Now she is in a nursery home. He seems to be satisfied on this peaceful Sunday morning.
Suzanna
There were hardly any people outside in this tiny village. Al of a sudden I saw Suzanna, a 25 years special education teacher from Brooklyn. Standing there on an empty road in the shadow of a big tree and wearing this orange beanie which was catching this nice amount of sunlight. She came all the way from NY to New Mexico to visit her family for Thanksgiving holiday. Although she gave me permission there was not much time left for making a photo because she had to go back. I didn't realize her family was waiting for her in the car a bit further on the road. Perhaps they were getting a bit nervous.
David & Perdida
Roadtrip New Mexico with a stop in the little village Cerrillos. A portrait of David and his little dog Perdida. During the week he works as a constructor.
I asked him to pose for a while. I liked his appearance with his hat and his sweet dog. The location was perfect, the car, the church and his hat.....all in the same color. I thank him for his patience!
Anthony
Roadtrip New Mexico with a stop in the little village Cerrillos. A portrait of this friendly man Anthony, a retired social worker who 's enjoying his pension. Spending his time with making music, being a dj and working ocasionally in the local bar.